Seeing so many homeless adults…
… on my daily commutes finally got the best of me. It wore me down. My brother was also homeless. Hard to look at every day. The human vision of suffering is visible where I live.
That nagging choice of — whom to help and whom to drive away from — lead me to this decision:
"If I've got it, I'll give it. If I don't have it, I won't."
I started offering water, body wipes and protein from my car window since few public toilets or fountains exist on L.A. streets.
…56, strong, sober black woman living in a tent on the outskirts of Skid Row. I served her 3x a week, as well as her entire block from my old SUV. When she moved to a nearby safer street, I served her new street, as well as her old one, starting in 2013.
Before I knew it, I was becoming the first Drive-By Do-Gooder!
Like an ice-cream truck, I roll down the warehouse streets, my voice bouncing off of the concrete walls: Water, String Cheese, Cleaning Wipes!" Slowly, the elderly and disabled emerge from their tents to get a little temporary love.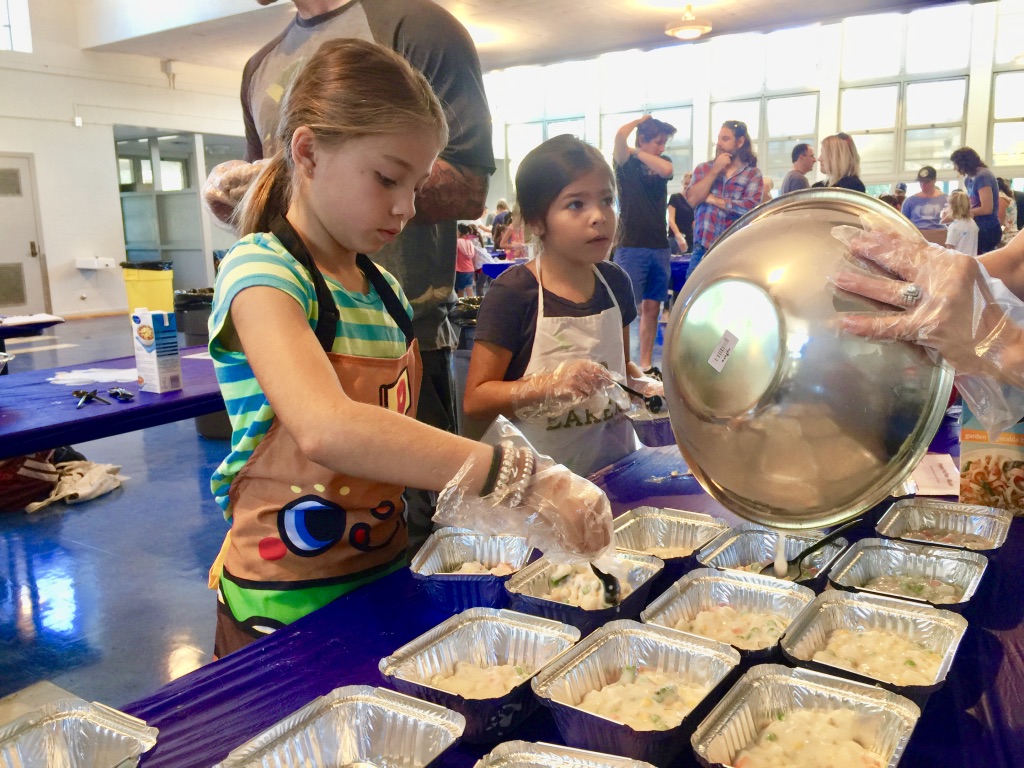 …of all ages, join us to experience this direct, hand-to-hand type of giving.
In 2013 when Gladys suggested I ask friends to donate. And no joke, that very day, three different friends randomly offered me about $35 for the effort.We were onto something! Perfect timing, as I'd just been laid off.
August 2015 I still had money to buy our name, website and become a legal charity!
I had no idea what becoming a legit charity would mean. Some months, we collect as little as $600 to supply 500 folks with hydration, hygiene, protein. That's a drop in the bucket.
My county is home to 56,000 adult homeless in its streets — living on sidewalks, under bridges, in old cars. Tough math for me. I can only do so much.
I can only spend so much. It's not my job to solve the homeless epidemic. Tough to tease out why.
While politicians and developers work on the end game of permanent housing, here's my end game:
As soon as we get enough donations…
…we buy cases of water, cold string cheese, boxes of baby wipes. Next, I turn my living room, and eventually my car, into an assembly line. I invite friends to help when they can.
We hand-make hundreds of hygiene body wipes by dividing boxes of baby wipes into baggies and infusing them with rubbing alcohol.
Bathrooms are buckets for the homeless. Very few reject the hygiene packs we make and offer every week.
Serving humans who live in 3rd world conditions…
…only a few miles away from my 1st world home makes me feel like this street-level giving makes sense. Like recycling or paying taxes.
I've never faced homelessness but I've been a few paychecks away. It won't take long living on the streets to start to feel fear and instability.
Meanwhile, we offer water and hygiene and protein to see our friends through rough times.
…from chronic homelessness years ago. One day I got the instinct to drive down to the beach to see if he was still there. He was. He was ready for that hand of help.
Many homeless don't feel worthy of being helped, like my brother at that time. The shame and self-hate pushes those hands of help away.
My hope is that with my consistent presence on the streets, maybe a few folks I serve might eventually feel hope. Those small wins keep us going.
…six months after she finally got housing. Guess the wait on the streets for those years took a toll on her body. Gladys is our first success story.
I no longer feel the need to answer the bigger questions about homeless adults that I see every day.
There is a peace in knowing that if "I've got it, I'll give it. If I don't, I wont."